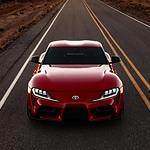 The 2020 Toyota Supra GR is an all-new model reviving an iconic line of popular sports cars. The Toyota Supra has a reputation of being a super-performing vehicle from the past, and now that the Supra GR has graced the world there is now the next generation of high-performance Toyota Supras on the market.
World-Class Performance and Handling
One of the qualities that make the Supra GR handle so well is the Adaptive Variable Suspension system that reads curves of the road and adjusts accordingly at speeds of thousands of times per second. The Supra GR also features a set of the highest performing brakes on the market made by Brembo, with 2-piece 348-mm vented disc rotors that provide a braking force that is unmatched. Want to learn more? Visit us at Mann Toyota where you can see the Supra GR for yourself--and possibly even take one for a test drive!